25 Jul 2013
Cuckoo Rice Cooker – CR-0631F
---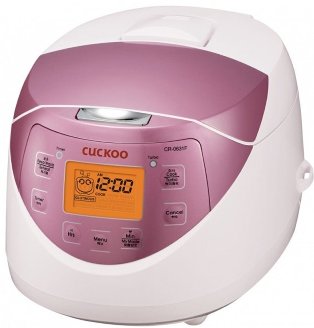 Capacity
6 Cups (uncooked)
Dimensions
21cm H x 31cm W
---
What you will find in this review:
>>Features & Attachments
>>Introduction
>>Brief features overview
>>Customer Reviews
>>Conclusion
FEATURES & ATTACHMENTS
Features
LCD Display
Great modern design and look
Removable parts for easy cleaning
Keep warm setting, automatically starts after rice is cooked
Timer
Range of different cook settings – GABA, Mixed, Slow cook, Steam, Glutinous, Porridge
Turbo cooking to speed cooking time
Includes
Cuckoo CR-0631F Rice Cooker
Manual
Rice Measuring Cup
Spatula
Built in Spatula holder
---
INTRODUCTION
Cuckoo CR-0631F is available in both offline as well as online stores at highly reasonable rates. The weight of this product is only 10 pounds which make it quiet portable to be carried to outdoor locations. This rice cooker can cook around 6 cups of rice in one time. Moreover, it needs service power of about 110 volts. This excellent rice cooking product comes with LCD display so that users can perfectly operate it. You can also cook brown rice using this rice cooker effectively. It's a regular heating cooker that allows you to prepare rice very fast. Those customers who are using this rice cooker say that it works hundred times better as compared to other rice cookers available in the market. Moreover, they say that Cuckoo CR-0631F will cause no burning and rice gets cooked to perfection.
This cooker has been designed in a special attractive manner so that it looks cool and classy in your kitchen and matches well with its decor. If you have a family of four or five members, this rice cooker will be a perfect and a must item for your kitchen. It has the ability of maintaining the taste and flavour of your rice thereby protecting its nutrients as well. There are several homeowners who were using rice cookers other than Cuckoo CR-0631F. When they came to know about the features and functionalities of this cooker, they immediately switched to this one and are all in praises of it. This is a perfect product for those who are working professionals and don't have sufficient time to stand and see their rice cooking. Using this rice cooker, all they need to do is fill it with rice and appropriate amount of water and finally set the time. Once that time is reached, the cooker will switch off on its own. It has the ability of keeping the rice warm for a longer period of time so that you can enjoy hot rice even after hours of cooking it.
BRIEF FEATURES OVERVIEW
In addition to rice, Cuckoo CR-0631F also allows you to cook several other items easily. So this one product is enough for you to prepare meals quickly. It comes with a cooking bowl that has non-stick coating that will assist users in simple cleaning. This product is highly durable having clear scale linings. The construction of this rice cooker has been done so as to provide durability as well as strength. Some of its other features include wide viewing LCD screen, multi-cooking option, soft steam cap, and simple top control edition.
CUSTOMER REVIEWS
A few users complain that Cuckoo CR-0631F often burns the rice in the bottom. This can be a result of their inappropriate temperature settings. If temperature settings are done in correct way and the quantity of rice and water is kept perfectly, then the final result will be deliciously cooked rice.
However Amazon customers who have purchased and used this Cuckoo rice cooker have given it a great rating. Only 10 reviews have been stated at this time, however the lowest rating is 4 out of 5 while the rest (9/10 reviews) actually scored it 5/5! From those reviews there is no doubt that this rice cooker is a great working and perfect rice cooker. Here are some of the most helpful comments that where posted by some of those customers: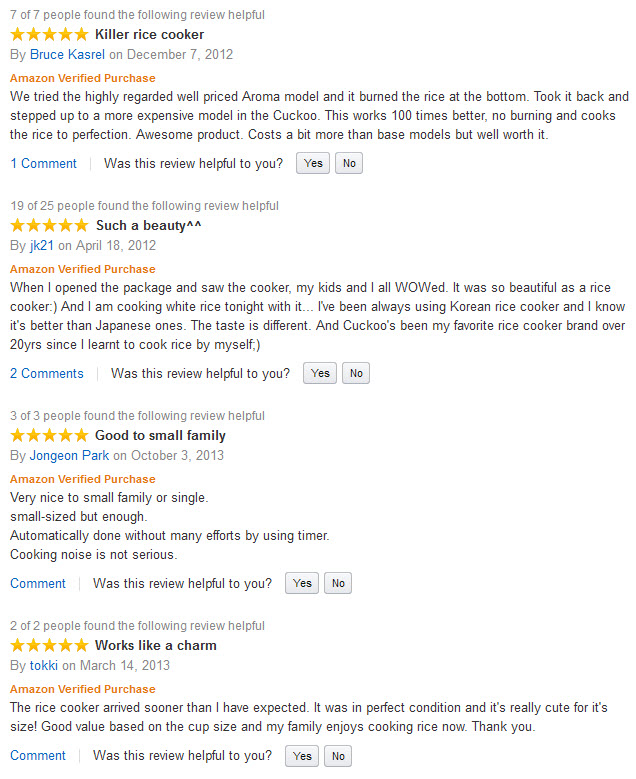 CONCLUSION
If you don't mind the pink colour of this rice cooker you will sure to like its ability to cook rice. It does not have all the advanced technology that is available today yet it has proven to cook rice at a great quality. Its certainly not the cheapest nor most expensive rice cooker that you can get so it's a reasonable rice cooker considering price but a fantastic one at that.